JLM Business Holding
We are a networked organization. We work together with the most renowned knowledge partners available in the market. Together with industry leading professionals we design your blueprint for success. Our hands-on mentality is focussed on supporting you to achieve your goals. We chose our organisation model to reduce fixed costs ensuring an excellent cost to value creation ratio. This way we build long term sustainable business relations based upon achieved success.
Ultimately, we add temporary resources to our clients capabilities to successfully execute strategies. We add expertise and long-term experience to your knowledge base for value creation. Are you trying to enhance your company's financial performance? Are you looking for a good exit strategy? Do you want to mitigate your business risk with a merger or partnership? Do you want to maximize your economies of scale without losing control of your variable cost? Contact us! We love a challenge.
Experience how our professionals seamlessly become part of your organization. Just in time! Adding exactly the needed resources, to beautify the art of your deal! Our support is always uniquely tailored to your needs and situation. Trust us to find the best strategic choices that will contribute most to your goals. If necessary our business coaches will actively participate in your business processes to ensure changes are efficiently embedded and focussed on their goal. This is how JLM Business Holding ensures successful execution of your strategy.
We Build Solutions For Your Everyday Problems
Our Proven Process Produces Results
1. MEETING
Information collection to determine which expertise needs to be added for successful strategy execution.
A businessplan is formulated that accurately provides a number of clear strategic choices.
3. EXECUTE
Our hands on business coaches will support your management with the execution.
4. TESTING
To test assumptions parts of the strategy will be tested to ensure succes after execution.
5. DELIVERY
Every quarter during the first year a fact based analyses and benchmark assesses performance.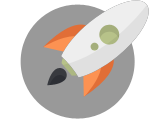 We're Here To Help Your Business Blast Off!
Through Team, Creative Ideas, Fact Based Analyses, Excellent Strategy Framework & Sheer Determination